Nutrition & WIC Services for Kansas Families
Chavis Lickvar-Armstrong May 27, 2022
Summary
WIC's goal is to help keep pregnant and breastfeeding women, new moms, and kids under age 5 healthy by providing:
Personalized nutrition information and support
Checks to buy healthy food
Tips for eating well to improve health
Referrals for services that can benefit the whole family
The information in this article comes directly from the Kansas Department of Health and Environment Nutrition & WIC Services websites and is subject to change. This information was last verified on May 27, 2022. Underlined text indicates a hyperlink that will take you directly to the resource when selected.
Who is eligible for WIC services?
Many working people are eligible for WIC and don't realize it. WIC serves Kansas residents who are:
Breastfeeding, up to baby's first birthday
Infants and children under five years old
Non-breastfeeding mothers, up to six months after baby's birth
Pregnant
WIC clients must meet WIC income guidelines and have a medical or nutritional need.To be income eligible for WIC benefits, a household may earn up to and including 185% of the Federal Poverty Guidelines. That means a family of four with an income at or less than $49,025 per year, or making $943 or less per week is income eligible.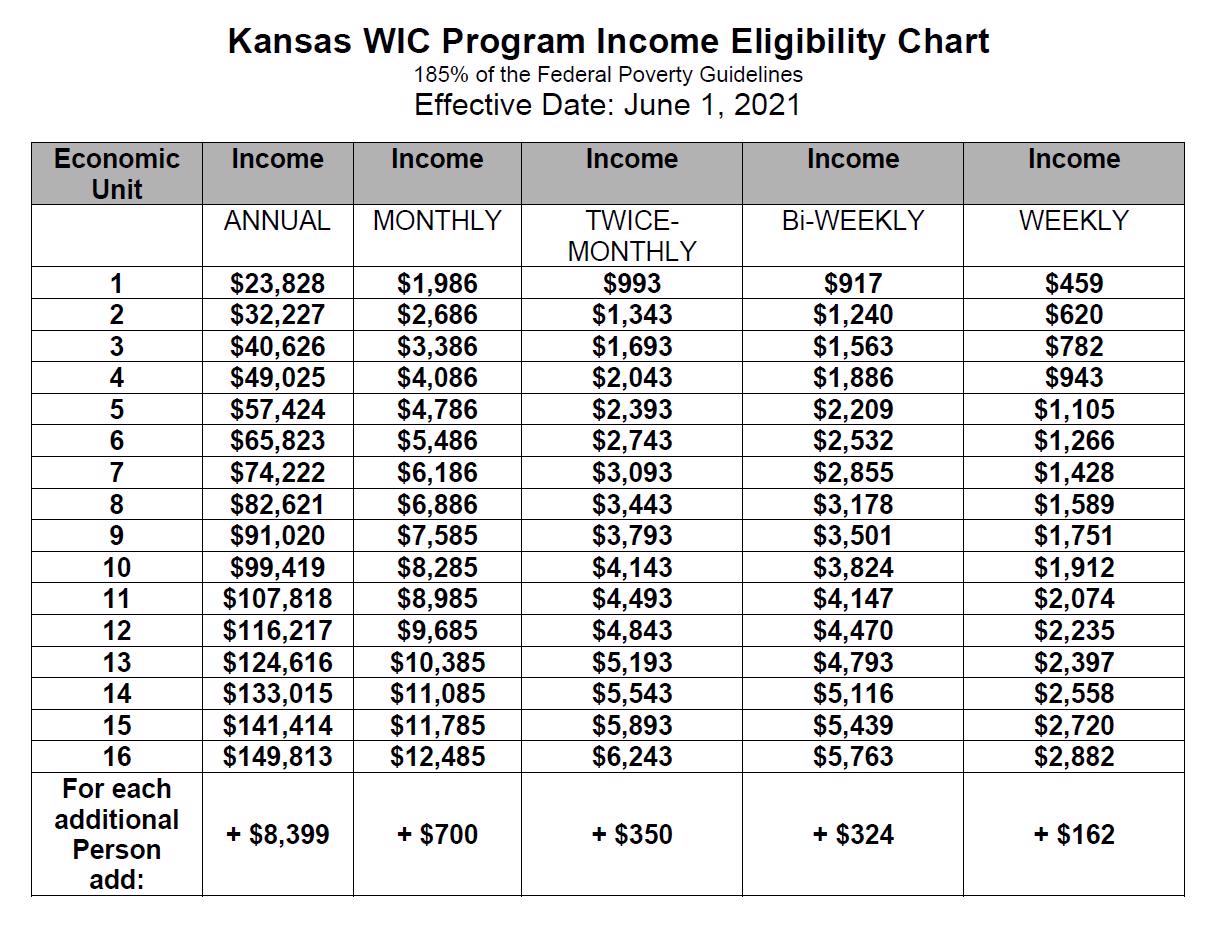 How do I become a WIC client?
Call your local WIC agency to schedule an appointment. You can reach the Douglas County WIC Program office at 785-856-5350. At the appointment, there will be a brief review of foods you eat, medical history, and current health status to determine the medical or nutritional need. If you or your child is found eligible for WIC benefits, the appointment will also include nutrition education.
What information will I need to provide?
Be sure to verify your appointment time, date, and location with your local WIC program and ask them to provide a throuough list of all the document you should bring to your appointment. According to the KDHE Nutrition & WIC Servies Website, you will need to bring:
Proof of Identity
Birth certificate
Driver's license
KS Medicaid card
Military ID
Passport
Photo ID
School ID
Proof of ID for Child
Birth certificate
Foster care/adoption papers
KS Medicaid card
Shot/immunization records
WIC can not accept Social Security Cards as proof of identity
Proof of Residency
Envelope that was mailed to you
Official letter
Rent receipts
Utility bill
Proof of Household Income for All People Living in Your House
Medicaid/Healthwave 19 card
Paycheck stub from current job
SRS benefit letter
Completed Diet Questionnaires (these may be provided to you by your local WIC program to be completed before your appointment).
What if I just want information about nutrition?
KDHE has compile a robust collection of Nutrition Education Resources (that can be accessed by clicking the underlined/hyperlinked text). Some of these resources are available in Spanish.