Learn How to Receive the Child Care Workforce Appreciation Bonus
Chavis Lickvar-Armstrong July 20, 2022
Summary
One-time appreciation bonus payments of $750-$2500 are available to over 20,000 eligible child care providers in Kansas, but eligible individuals must apply for the payment. The Child Care Workforce Appreciation Bonus Program is made possible with funds from the American Rescue Plan Act (ARPA) of 2021. This law provides supplemental funds to help State, Territory, and Tribal Lead Agencies address the impacts of COVID-19. The funds were awarded to DCF and funds will be administered by KDHE.
Child Care Aware of Kansas has all of the information you need to complete your application. This article outlines the basics. If you would like to learn more, go to this Child Care Aware of Kansas website and select the "Child Care Workforce Appreciation Bonus - Now Available" link for information presented in webinars, example forms, and the links to complete your application.
How do I know if I'm eligible?
Everyone who is eligible will be notified by email or mail depending on how your information is presented in CLARIS, the state's child care provider portal. This bonus is not just for educators. Child care administrators, nurses, cooks, drivers, and other important roles are eligible as well. Relative care providers approved by DCF are also eligible.
Eligible individuals are regularly working in a Kansas child care facility that is licensed by KDHE, or a licensed exempt Head Start program. Workers who receive cash payments and cannot verify employment with a paystub or a canceled check are not eligible. Finally, individuals who have been working consistently for at least 6 months (as of July 1, 2022) are eligible right away.
The notices of eligibility will be mailed to individual employees, not to center or program directors. This is an important time for center or program directors to update their staff information in the provider portal, CLARIS!
When should I apply?
Due to the high volume of applications anticipated, applications will be requested in phases by licensed program type. Individuals working in Child Care Centers and Head Start programs can submit applications beginning July 18, followed by individuals working in Preschools on August 15, School Age and Drop-In Programs on September 11, Licensed and Group Day Care Homes on October 9, and DCF Relative Providers on November 5.
Please note that this timeline is for individuals who have at least 6 months of work experience at each type of facility (as of July 1, 2022). Individuals with less than 6 months of work experience may apply starting November 5th. See the table created by the Kansas Department for Children and Families below for a detailed breakdown.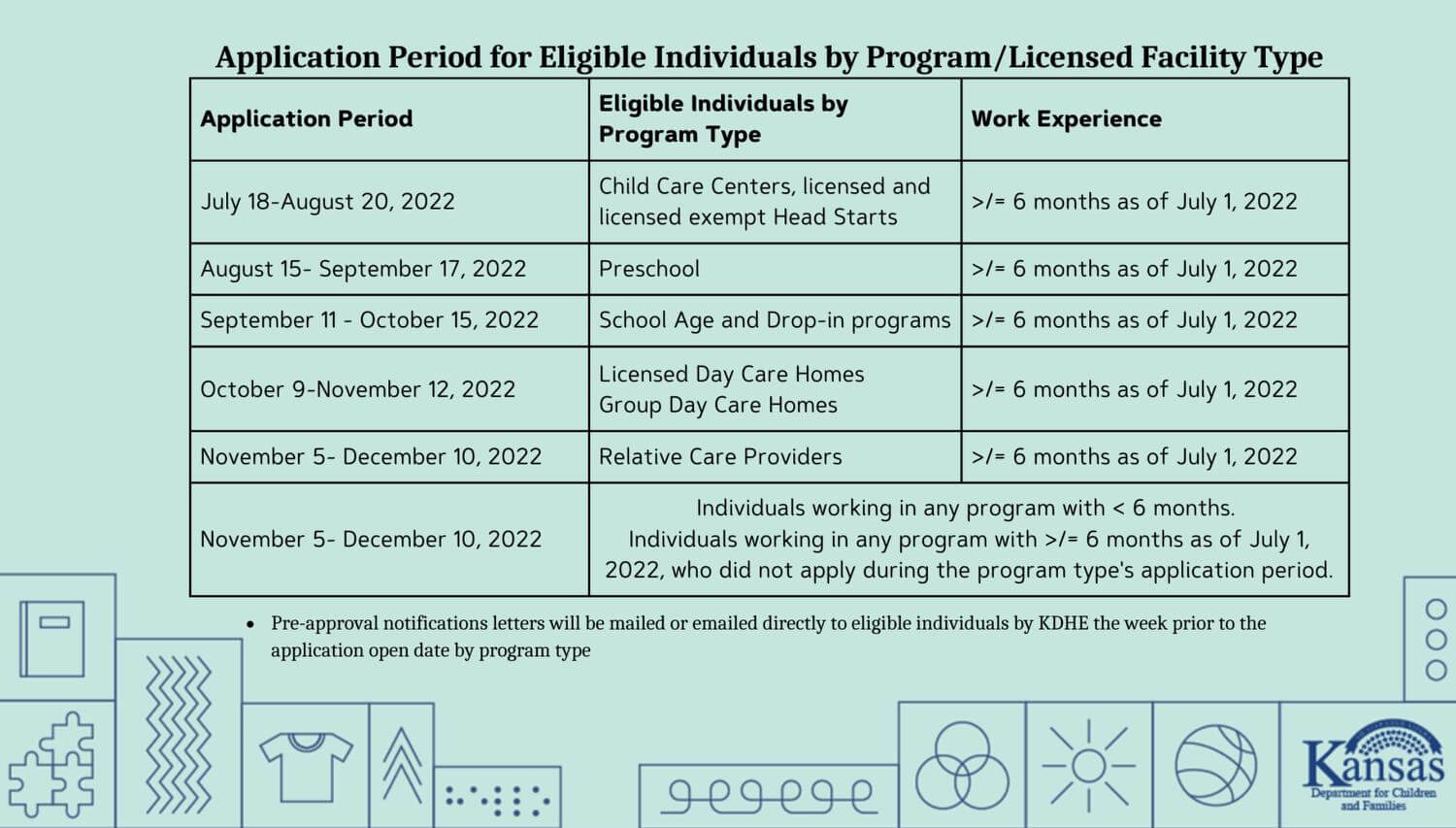 How do I apply?
You are highly encouraged to complete your application and attach the required documents (W-9 tax identification form, proof of employment, and authorization for electronic deposit of payment form) online. Submitting by fax or mail is permitted but processing will be delayed. The online submission cannot be saved and must be completed in one sitting, so have your documents ready before your begin. We recommend the following steps for preparing and submitting your application:
Step 1: Prepare your required documents.
Proof of employment. This can be a pay stub, canceled check, or if you are a director or operator, or a license with your name on it. Whatever you choose to submit, you will want to scan it to create a PDF that can be uploaded with the online application.
W-9 Taxpayer Identification Form. This is required! You can download the fillable PDF by selecting this linked text.
State of Kansas Authorization for Electronic Deposit of Payment form. This is optional. You can download the fillable PDF by selecting this linked text.
Supplemental documents for 03. If you choose to submit the Electronic Deposit form, you will also have to upload a scanned copy of a voided check or a bank letter for submission. Be sure to have that prepared before you begin the application process.
Step 2: Complete the online application.
You will find a link to the online application at this Child Care Aware of Kansas website under the heading, "Child Care Workforce Appreciation Bonus – Now Available". The application is availabe in English and Spanish. Look for the bright orange blocks. A screen shot is provided below so you can easily recognize the links.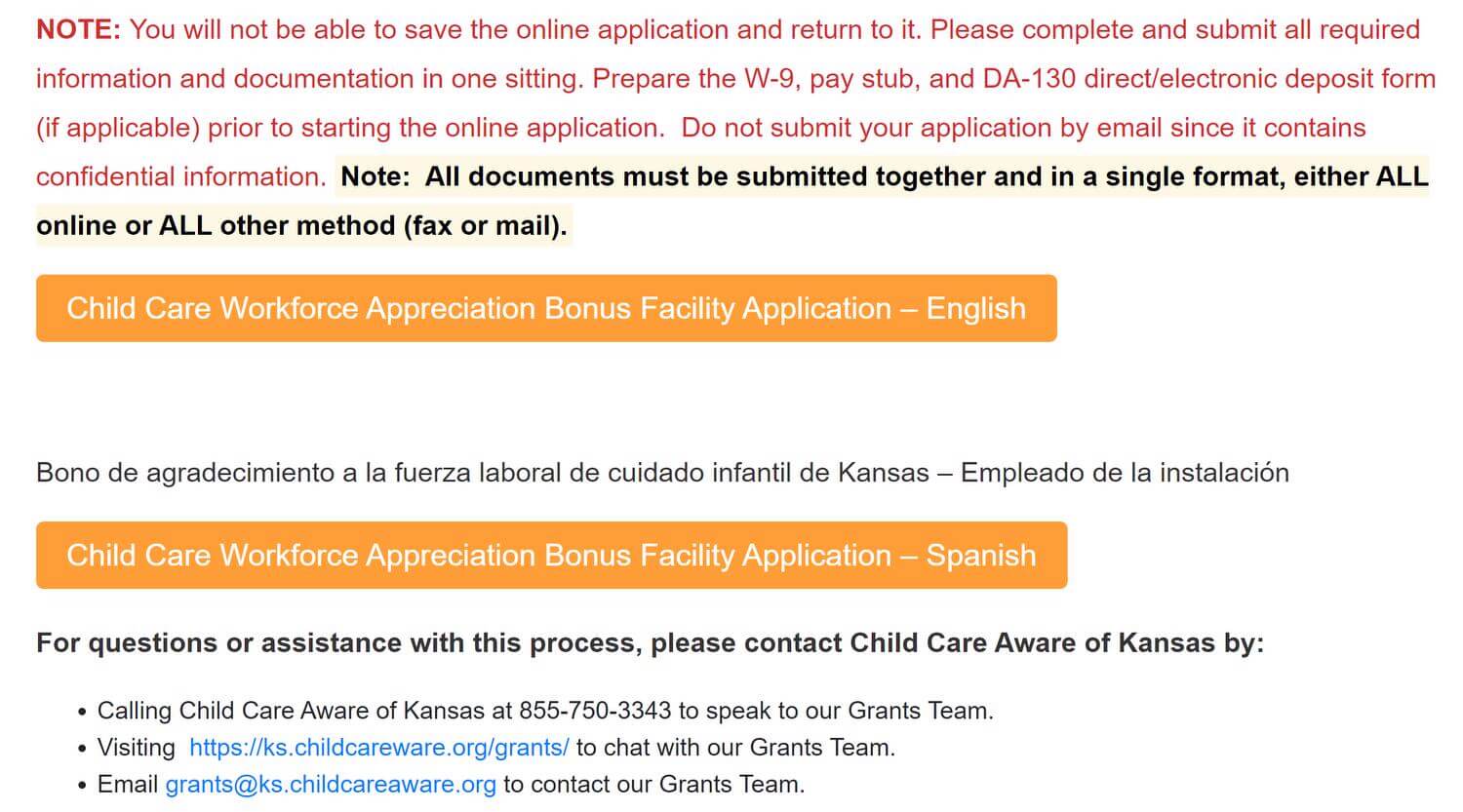 This is such an exciting and well deserved bonus for child care professionals in our state. If you have any trouble completing the application process, Child Care Aware of Kansas has a team to support you.
For questions or assistance with this process, please contact Child Care Aware of Kansas by:
Calling Child Care Aware of Kansas at 855-750-3343 to speak to their Grants Team​.
Visiting https://ks.childcareware.org/grants/ to chat with their Grants Team. ​
Email grants@ks.childcareaware.org to contact their Grants Team. ​
Congratulations on this well deserved bonus!