Early Childhood Theme Kit Descriptions
Community Children's Center August 12, 2022
Summary
Welcome to the descriptions page of the Early Childhood Theme Kits. Here you will find a brief description, a visual, and an inventory list of each kit. Happy browsing!!!
Interested in checking out a kit?
CLICK HERE to request a theme kit.
Bats Section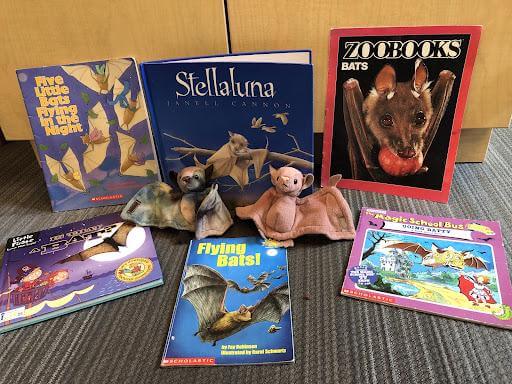 BATS
Are bats really as creepy as we make them out to be? Learn more about these nocturnal creatures with the books and activity binder in this box.
Books
Bats at the Beach
Bats in the Library
Flying Bats
Stellaluna
Zoobook Bats
Is That a Bat?
Magic School Bus Going Batty
Materials
Beanie Baby Bats
Bears Section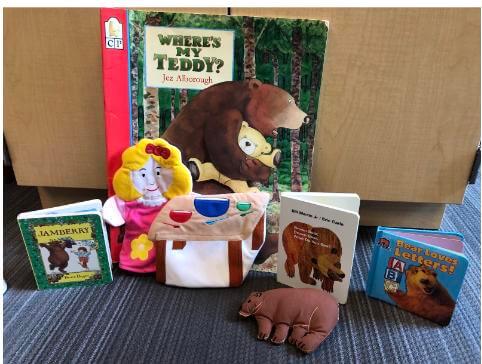 BEARS
This box includes so many fun learning activities! Retell the story of Goldilocks and the Three Bears with puppets. Work on rhyming and animal identification with Brown Bear, Brown Bear What Do You See. Use the sorting bears to play with colors and patterns. Who knows. You may even host your very own teddy bear picnic!
Books
The Three Snow Bears
Where Is My Teddy?
Bearobics
Maybe a Bear Ate It
Snow Bears
Brown Bear Brown Bear
We're Going on a Bear Hunt
Bear and Ball
Polar Babies
Jamberry
The Teddy Bear ABC
Blueberries for Sal
Bears
Winnie the Pooh Loves Honey
Giant Panda Zoo Boo
Bear and Kite
Bear Loves Letters
Materials
Posters
Brown Bear Props
Upper/Lower Case Cave Hunt
Goldilocks and the Three Bears Felt Puppets
Panda Puzzle Alphabet Matching
Dinosaurs Section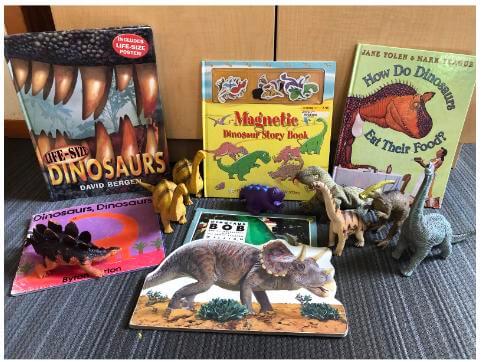 Roar! Don't look now, but there's a dinosaur! A lot of dinosaurs! Explore the prehistoric times with this two box set. Each box includes dinosaurs for dramatic play, lots of books, and a binder of possible activities. Allow yourself extra time to explore these boxes.
Books
Dinosaur Dinner
Dinosauring
Dinosaurs
Dinosaurs A-Z
Dinosaurs at Your Fingertips
Dinosaur Dance
Dinosaurs Everywhere
Dinosaurs Roar!
How Do Dinosaurs Clean Their Rooms?
How Do Dinosaurs Play with Their Friends?
How Do Dinosaurs Count to Ten?
How Do Dinosaurs Eat Their Food?
How Do Dinosaurs Say I Love You?
The Troll Prehistoric Times
My First Jumbo Book of Dinosaurs
The Great Dinosaur Search
Dinosaurs, Dinosaurs
Dinosaur Bob and His Adventures
Life Size Dinosaurs
Saturday Night at the Dinosaur Stomp
Tyrannosaurus Tex
Dinosaurs, A Developmental Unit for Preschool
Magnetic Dinosaur Storybook
Materials
Fandex Family Field Guide
Imaginetics Dinosaurs Magnetic Play Set
Great Dino Divide File Folder Game
Dinosaur Posters
Dino Dominoes
Dinosaur Alphabet Matching
Lots of Dinosaurs
Ducks Section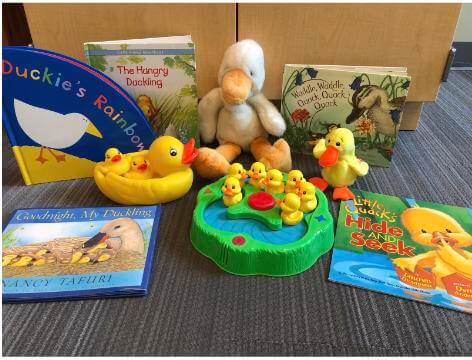 Quack! Quack! There is a lot of learning fun in this box about ducks. Learn about shapes, counting, and colors through the games, books, and activity binder included in this box. Your little ducklings will love it!
Books
Click, Clack, Splish, Splash
Duck for President
Duck and Goose
Duckie Rainbow
Duck Stories
Farmer Duck
Five Little Ducks
Goodnight, My Duckling
Have You Seen My Duck?
Little Quack Dial a Duck
Little Quack Hide and Seek
Make Way for Ducklings
The Hungry Duckling
The Little Duck
The Story about Ping
The Tale of Jemima Puddle Duck
Waddle, Waddle, Quack, Quack, Quack
Zoobooks Ducks, Geese, and Swans
Materials
Stuffed Farmer Duck
Beanie Baby Duck
Ten Felt Ducks
Water Toy Ducks
Lucky Ducks Game (CHECK BATTERIES UPON RETURN)
Frogs Section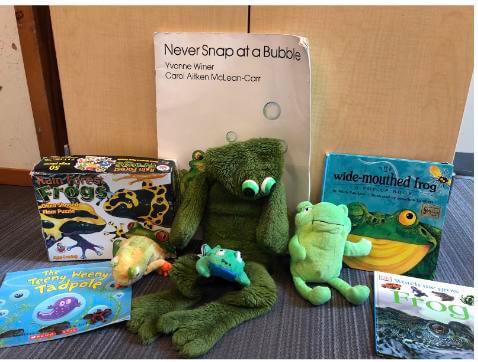 Learn more about frogs with this box. In addition to books and a binder of activities, the box includes a puzzle, lessons and "models" on the life cycle of a frog, and frog puppets. The wide mouth frog from the book also brought along some of his wide mouth friends.
Books
Froggy Went A-Courtin'
From Tadpole to Frog
Never Snap at a Bubble
The Frog Alphabet Book
The Teeny Weeny Tadpole
Watch Me Grow
The Wide-Mouth Frog
Life Cycle of a Frog
I Don't Want to Be a Frog
Materials
Life Cycle of a Frog Puzzle
Rainforest Frogs Puzzle
The Mysterious Tadpole Prop Kit
Wide Mouthed Frog Activity Guide and Puppets
Life Cycle Frog Sequencing
Beanie Baby Frogs
Kangaroos Section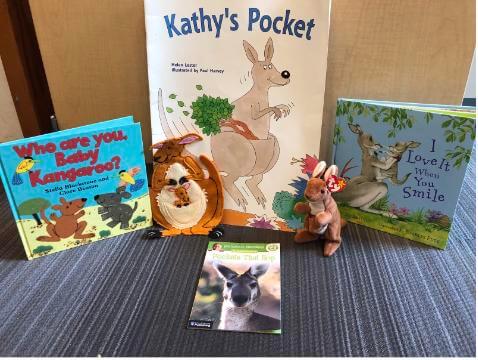 An animal with built in pockets? What's not to love! Check out this box of books and an activity binder to learn more about these creatures. What would your kids keep in their pocket if they were a kangaroo?
Books
I Love It When You Smile
Who Are You, Baby Kangaroo
Marsupial Sue
Kathy's Pocket
Materials
Wooden Puzzle
Felt Puppet
Beanie Baby Kangaroo
Kangaroo and Joey Poster
Monkeys Section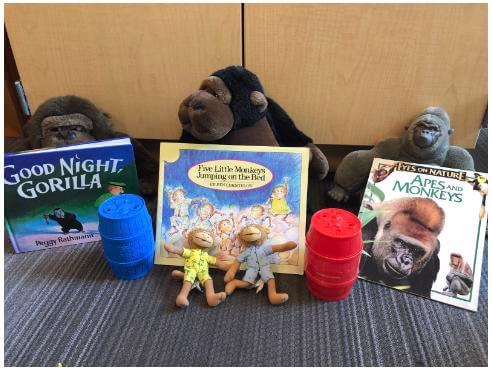 There is something about monkeys that just make kids smile. Have fun introducing your kids to Curious George and those five monkeys that always seem to be jumping on the bed. See what other mischief monkeys get into with the other books included in this box. Also included is a binder of activities and several Barrel of Monkey games.
Books
Apes and Monkeys
Caps for Sale
Curious George and the Bunny
Curious George and the Ballet
Curious George
Curious George Goes Fishing
Curious George Goes to the Air Show
Curious George Opposites
Curious George Rides
Curious George Takes a Job
Curious George ABC
Don't Wake Mama
Eight Silly Monkeys
Five Little Monkeys Jumping on the Bed
Good Night Gorilla
Naughty Little Monkeys
Orly the Orangutan
Materials
Barrels of Monkeys Games
Chimpanzees Poster
Go Bananas
Five Little Monkeys Felt Board Pieces
Money Sequencing Game
Curious George Doll
Stuffed Gorillas
Penguins Section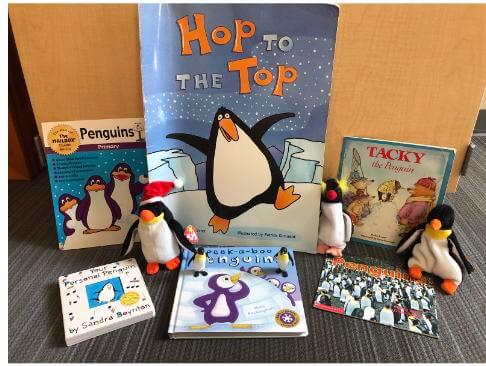 Who doesn't love penguins! Their waddle alone makes them cute. Learn more about penguins with the suggested activities and books included in this box. Introduce them to Tacky the Penguin. Let them create their own icebergs using the plastic penguins. Let them cuddle with a stuffed penguin at naptime. The possibilities are endless.
Books
Hop to the Top
Peek-a-Boo Penguins
Penguin Post
Penguins
Penguins Teaching Guide
Tacky the Penguin
The Emperor's Egg
Your Personal Penguin
Zoobooks Penguins
Materials
Penguin Figurines
Penguin Number Match File Folder
Pets Section
Penguin Laminated Sheet
Beanie Baby Penguins
Some of our best friends have fur! Help kids explore different kinds of pets and how to take care of them. Many books and a binder of activities are included in this box. Your kids will have fun playing with the stuffed animals as well.
Books
Cats vs Dogs
Bad Kitty
Biscuit Storybook Collection
Harry and the Lady Next Door
Bad Dog Marley
Biscuits New Trick
Classic Clifford Stories
Dear Mrs. LaRue: Letters from Obedience School
Dog's Colorful Day
Fancy Nancy and the Posh Puppy
Hondo and Fabian
Huggly, Snuggly Pets
Kipper
Martha Speaks
On, the Pets You Can Get
Pets, Pets, Pets
Pepper, a Snowy Search
Pick a Pet
The Trouble with Pets
The Poky Little Puppy
The Stray Dog
Too Many Dogs
What Pets Teach Us
Where's the Puppy
Materials
Feed the Dog a Bone File Folder Game
Pet Animals Poster
Pet Shop Poster
Flannel Pets
Beanie Baby Pets
Pets Laminated Pictures
Puppy Puppet
Pigs Section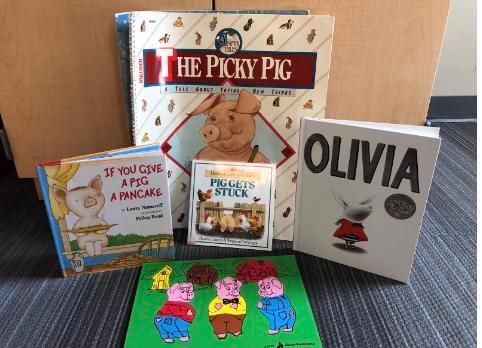 Pigs aren't only cute, but they are smart. Learn more about pigs with the books and binder of possible activities in this box. Warning–you may need to have a pancake party after reading If You Give a Pig a Pancake!
Books
If You Give a Pig a Pancake
Olivia
Olivia Saves the Circus
Pig Gets Stuck
The Picky Pig
The Pig in the Pond
Materials
Pig Bean Bag
Three Pigs Puzzle
Three Little Pigs Flannelboard Pieces
This Little Piggy Cars
Alphabet Flashcards
Rabbits Section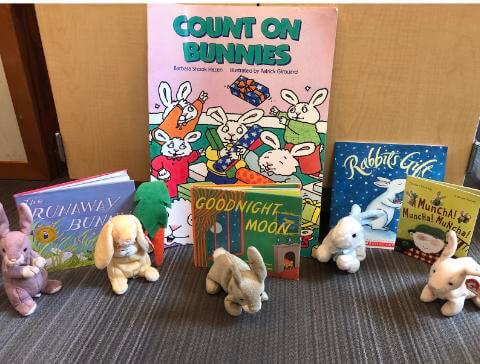 They are cute and cuddly and love to get into people's gardens. The farmers featured in the books in this tub will tell you that. Spend some time with the activity binder to explore more about rabbits. Maybe your creative kids can help keep the rabbits out of their gardens.
Books
Count on Bunnies
Good Night Moon
The Runaway Bunny
The Tale of Peter Rabbit
Muncha, Muncha, Muncha
Materials
Rabbit Sequencing Cards
Peter Rabbit Tic-Tac-Toe
Feed the Rabbit Game
Set of Flannel Bunnies
Rabbit Puppet
Beanie Baby Rabbits
Large Carrot
Rainforest Section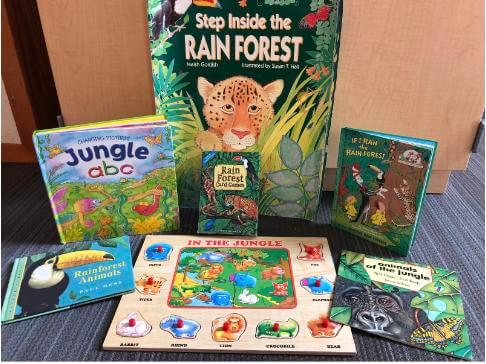 A large variety of animals live under the canopy of the rainforest. Introduce your kids to some new animals and where they live with this tub. In addition to books and a binder of possible activities, this tub includes a puzzle and a felt set to create your own rainforest.
Books
Animals of the Jungle
If I Ran the Rainforest
Jungle ABC
Rain Forest
Rainforest Animals
Rainforest Wildlife
Step Inside the Rainforest
The Umbrella
The Jungle Book
Materials
Rainforest Animal Poster
Rainforest Poster
Rainforest Card Games
In the Jungle Puzzle
Mask Set from The Umbrella
Who Lives in a Rainforest File Folder gGame
Rainforest Felt Set
Zoo Section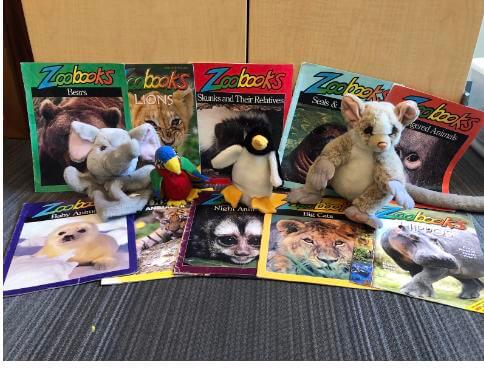 Bed Section
If you can't go to the zoo, bring the zoo to you! Your kids will love looking at the pictures of real animals in the collection of Zoo Books in this tub. Maybe they will be inspired to create their own zoo through crafting or bringing stuffed animals from home.
Everyone needs time to nap and rest, littles and grown ups included. Snuggle up with the littles in your care and read the books included in this bag. Activity pages are also included.
Books
Time for Bed
Goodnight Dog
Sleepy Dog
Bedtime
Naptime
Materials
Dreamland CD
6 rings
1 teether
Llama Section
3 cloth cards
11 calm down tubes
Is Your Mama a Llama? Story Bag
Explore different kinds of animal moms as you read Is Your Mama a Llama. Also included is a llama hoodie for dress up.
Books
Is Your Mama a Llama (2 copies)
Materials
Animal Picture Cards (12 pieces)
Rumphis Section
Felt Board Animals (7 pieces)
Llama Hoodie
As a girl, Miss Rumphis wanted to accomplish three things: visit faraway places, live by the sea and make the world a more beautiful place. The first two were easy, but making the world a more beautiful place proves to be a challenge. This bag includes the book, story telling props, extension activities and a teacher resource card to extend the learning fun.
Books
Miss Rumphius
Materials
4 Knobbed Transportation Pieces
Transportation Questions and Answers
Flower Part Labeling Mat
Story Telling Pieces (shell, camel, picture frame, compass
Memory Matching Cards
Upper and Lowercase Letter acth
Nursery Section
Laminated Map
Teacher Resource Card
Nursery Rhyme/Fairy Tale Book Bag
Travel back to your childhood and share some of the nursery rhymes and fairy tales from your past. Felt storytelling pieces are included for many of these familiar rhymes. Also included are books, a roll and cover game, and sheep to practice colors.
Books
Nursery Rhymes, Fingerplay, and Songs
The Three Bears
The Three Kittens
Materials
38 Nursery Rhyme Pictures to go with the book
Roll and Cover Game
2 Gingerbread Cookie Cutters
Mary Had a Little Lamb Learning
Cow Jumped Over the Moon Felt Pieces
Hey Diddle Diddle Sequence Cards
Goldilocks Felt Pieces
Little Red Riding Hood Felt Pieces
Laminated Story Cards
Jack and Jill Felt Pieces
Baa Baa Black Sheep Felt Pieces
Peter Peter Pumpkin Eater Felt Pieces
Peek Section
Jack Be Nimble Felt Pieces
Felt Board
Who doesn't love a good game of Peek-a-Boo?? Expand your game with the items in this bag. Books, scarves, a peek-a-boo block, and activity pages are included.
Books
Peek-a-Boo
Let's Play Peek-a-Boo
Peekaboo Kisses
Materials
Cloth peek-a-boo block
Rainbow Section
6 scarves
Activity pages
Rainbow Fish LOVES his shimmering scales! They make him the most beautiful fish in the ocean. What happens when Little Fish asks Rainbow Fish to share his scales? Find out with this bag!
Books
The Rainbow Fish
The Adventures of Rainbow Fish
The Copycat Fish
Materials
Felt Board
7 Velcro Backed Storytelling Pieces
Tops Section
Color Match File Folder Game
Activity Ideas
Bear has lots of money and lots of land–and he's lazy. Hare has nothing but a hungry family. Hare is sure there is a way to share Bear's wealth. Find out how Hare tricks Bear to feed his family of rabbits. Also a great opportunity to explore how veggies grow and the difference between fruits and vegetables.
Books
Tops and Bottoms
Fruits and Vegetables
Materials
16 Velcro back storytelling pieces
Fruit and Vegetable File Folder Game
Alphabet Section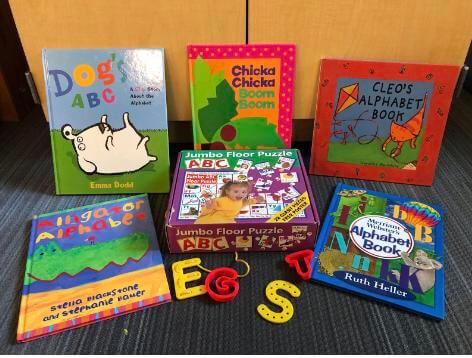 Letters are everywhere! Have fun helping your kids learn the names of letters with this tub. In addition to books and a binder of activities, you will also find cookie cutters, lacing shapes, matching games, and felt letters to go along with Chicka, Chicka, Boom, Boom.
Clothing Section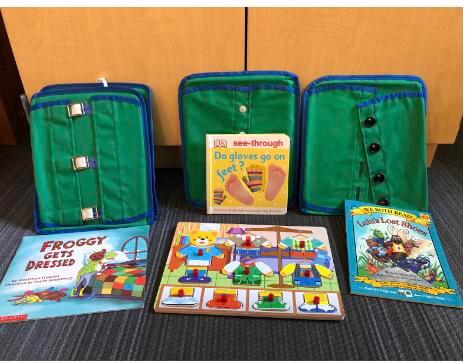 Learning how to fasten, buckle, button, and tie is really hard, especially for little hands! Use this tub to practice all kinds of fasteners.
Colors Section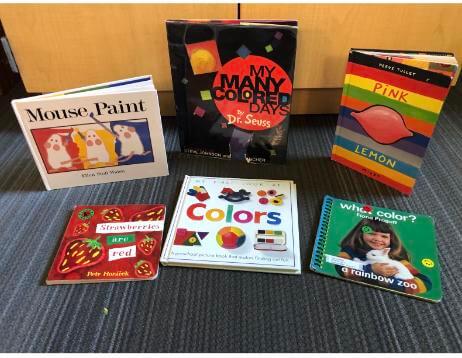 Counting Section
This tub gives kids a great opportunity to explore colors through books and the binder of activities included. Maybe you'll go on a color hunt. Maybe you'll have a color show and tell day. Maybe you'll mix color and see what happens. The possibilities are endless.
Learning Section
Kids pick up counting pretty easily. Recognizing numbers can be a little harder. Explore counting and numbers with the books and activities in this tub. Puzzles are also included.
Learning and fun should go together like mac and cheese. This bag contains items to work on letters, rhyming, and critical thinking through books and games.
Books
ABC
Animals A-Z
Touch and Feel ABC
Materials
Letters Section
Critical Thinking Photo Cards with Instructions
Picture Rhyme Board Game
As the bag suggests, letters really are all around us! The bag includes an alphabet puzzle, alphabet stamps and stamp pads, books, and magnetic letters and pictures.
Books
Alphabet Rescue
Albert's Alphabet
Alphabet Under Construction
Materials
Alphabet Stamps
Ink Pad (***Check upon return)
Alphabet Puzzle
Words Section
Words Section
26 Letters for Puzzle
26 Magnetic Letters
This bag is designed for those who are ready to discover how bigger words work. Included in this bag are a variety of cards that work on short vowels, long vowels, blends, and digraphs.
Books
Z is for Moose
Chicka Chicka Boom Boom
Eric Carle's ABC
Materials
2 Chalkboards
Beginning Sounds Cards
Consonant Blends Cards
Upper Case Cards
Lower Case Cards
Short Vowel Cards
Consonant Digraph Cards
Short and Long Vowels
Math Section
Math Section
Word Family Cards
Chalk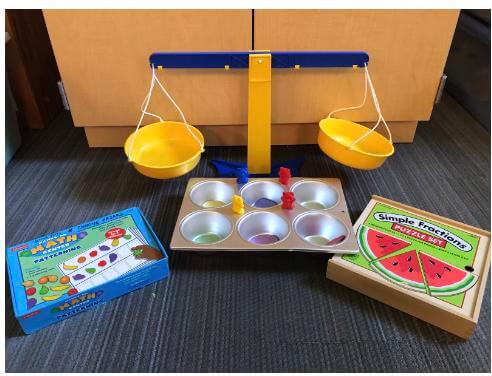 Numbers Section
This tub allows kids to explore many math concepts beyond counting in a fun way. Introduce your kids to patterning, fractions, measurement and more in fun, age appropriate ways. Many hands-on activities provided.
Numbers Section
Have fun exploring numbers with this bag. Count fruit to match the number blocks. Working on counting backwards with those silly monkeys jumping on the bed. Practice patterning and sorting with the fruit counters. The possibilities are endless.
Books
Five Little Monkeys Jumping on the Bed
Numbers
Materials
0-9 wooden numbers
Counting Mats
Fruit Counters
Opposites Section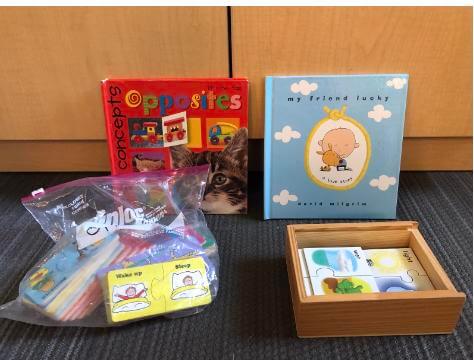 Explore the concept of opposites with this tub. Included are books and two opposite puzzles.
Rhyming Section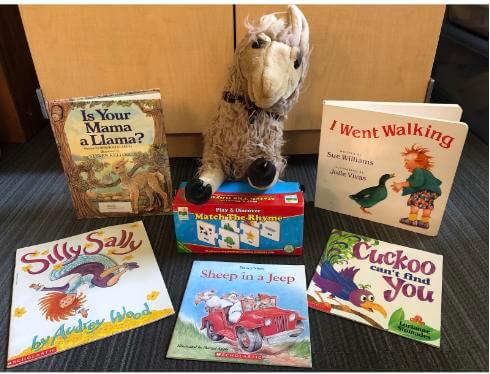 Kids LOVE rhyming books! Rhyming is also a very important pre-reading skill. Introduce your kids to rhyming fun with this tub. So many books and possible activities.
Shapes Section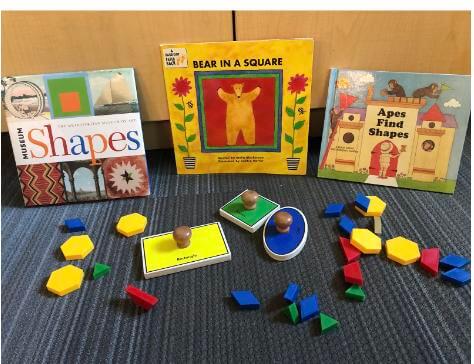 Sign Section
Shapes are everywhere. Explore different kinds of shapes with this tub. Kids can explore with books, a binder of possible activities, and all kinds of shapes. Who knows. Maybe you'll end up on a shape walk in your neighborhood.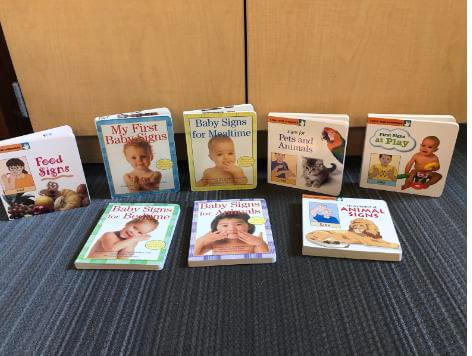 Spanish Section
Many young children are able to learn sign language for things before they learn to speak. This tub includes many books to introduce kids to basic signs.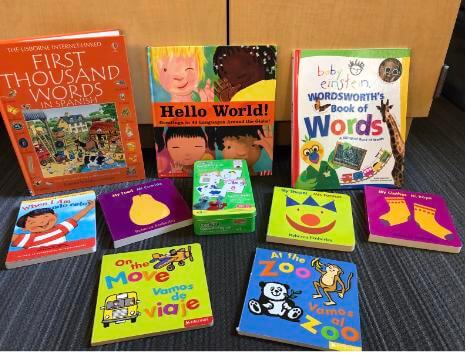 Time Section
Kids' ability to learn a second language is much better than adults. Why not introduce them to Spanish early. This tub contains a ton of books and a binder of possible activities. Also great opportunity to allow Spanish speakers in your care to shine!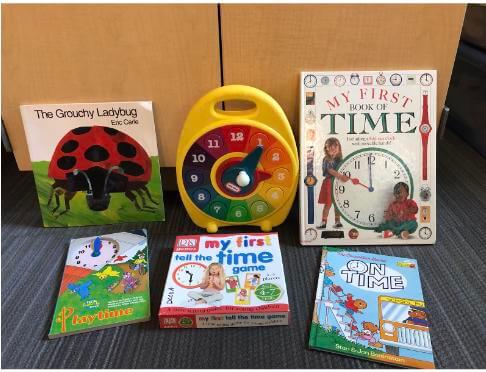 Asian Section
Introduce your kids to the concept of telling time. This tub includes books, a binder of possible activities, and clocks for play and practice.
Books
Easy Chinese Cooking
Everybody Cooks Rice
Everyday Stir-Frys
How My Parents Learned to Eat
My First Chinese New Year
The Empty Pot
Materials
Set of Chinese Zodiac Symbols
Chinese New Year Dragon Spot Count
Dragon Flip Book
Red Envelopes
Chinese Zodiac Dominoes
Chinese Zodiac Matching
Placemats
Play Wok with Lid, Base, Stand
Utensils
Decorative Dish Set
Chocolate Section
Asian Play Food
2 Wooden Puzzles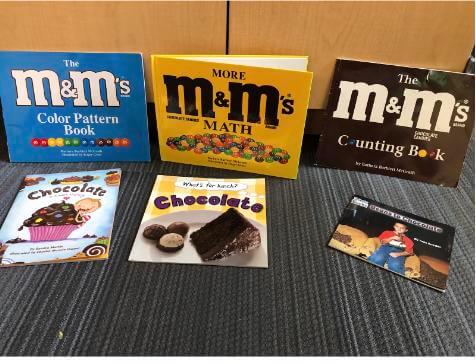 Chocolate may not be the healthiest food, but it sure is delicious! This tub includes books and a binder of possibilities of activities. There are a lot of early math skills that can be done with M&Ms. And you can eat the M&Ms when you are done. That's my kind of learning!
Books
Beans to Chocolate
Chocolate: A Sweet History
From Cacao Bean to Chocolate
M&M's Color Pattern Book
M&M's Counting Book
What's For Lunch? Chocolate
More M&M's Math
Cookies Section
Materials
Dominoes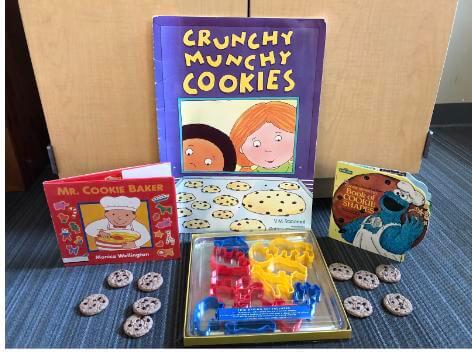 C is for cookie and that's good enough for me. At least that's what I learned from Cookie Monster. Your kids can learn even more from Cookie Monster and friends through the books and activities included in the tub.
Books
Big Crunchy Munchy Cookies
Mouse Cookies and More
Cookie Monster Book of Cookie Shapes
The Doorbell Rang
The Biggest Cookie in the World
Mr. Cookie Baker
Dinosaurs for Dessert
Cookie Monster's Time to Eat
Materials
Animal Crackers Game
Plastic Cookies
Cookie Critters Box of Cookie Cutters
If You Give a Mouse a Cookie Shadow Match
If You Give a Mouse a Cookie Letter Matching
Wooden Rolling Pin
Cookie Count
Cookie Dough Scoop
Cooking Section
Alphabet Cookie Cutters
Assorted Cookie Cutters
This kit contains an apple corer, an apple peeler, and a blender in addition to recipe books for cooking with kids.
Books
Blender Cook Book
Babar Learns to Cook
Twigs 12 Months of Food for Thought
Cook Around the World
The Complete Cookbook for Young Chefs
Materials
Measuring Spoons
Measuring Cups
Liquid Measuring Beaker
Whiz It Up Folder with Recipe Cards
Blender with Lid and Base
Apple Corer
Eggs Section
Apple Wedger
Apple Peeler/Corer/Slicer with Stand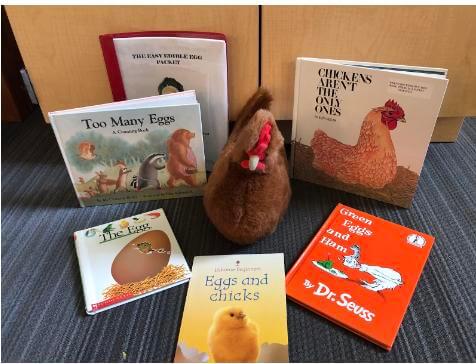 Kids often know baby chicks come from eggs. But what other animals start as an egg. Learn that and more with this tub. This tub includes books, a binder of activities, and a booklet of egg recipes. Time to get crackin'.
Books
Chickens Aren't the Only Ones
Eggs and Chicks
Too Many Eggs
The Egg
Egg in the Hole
Green Eggs and Ham
Millions of Years of Eggs
Materials
Egg Shape Matching
Empty Plastic Eggs
Too Many Eggs Props
Counting File Folder Game
Alphabet Matching File Folder Game
Little Red Hen Flannel Board Pieces
The Easy Edible Egg Packet
Chicken Puppet
Hispanic Section
Sequencing Cards
Egg Matching Cards
Explore new recipes with this tub. This tub includes books, recipes, and suggested activities. It also includes books in Spanish. Plan a fun fiesta. Maybe it will lead to a nice hora de la siesta!
Books
A Birthday Basket for Tia
Fiesta
I Speak Spanish for My Mom
Kids Get Cooking
Mexican Learning Packet
The Runaway Tortilla
The Well-Filled Tortilla
Una Arana Encantadors
Unosito Encantadors
Un Conjito Encantador
Materials
Masher
Small Blue Enamel Pot with Lid
Play Food
Finger Puppets
Mealtime Section
English/Spanish Food Cards
Cinco de Mayo Laminated Sheet
Explore new foods and how they are prepared with this kit. Kids can practice making their own meals using the pretend food, plan what they would take on a picnic, and explore what foods need to be cooked before eating.
Books
Mealtime
Materials
Play Food
Milk Section
20 Food Sorting Cards
7 Creative Curriculum Learning Game Cards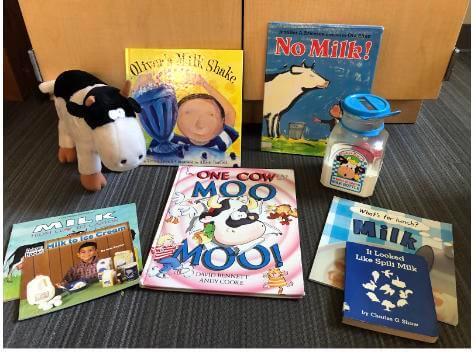 Where does milk come from? How does it become ice cream? Find out the answers to this and more with this tub. There are many books and a binder of possible activities.
Books
It Looked Like Spilt Milk
The Milk Makers
Milk from Cow to Carton
Milk to Ice Cream
No Milk
Oliver's Milk Shake
One Cow Moo Moo
What's for Lunch? Milk
Materials
Play Food
Alphabet Ice Cream Cone Match
Milk Bottle with Colored Cookies
Ice Cream Flip Book
Ice Cream Scoop Number Cards
Stuffed Cow
Sequencing Cards
Ten Bottles of Milk on the Wall Cards
Veggies Section
Dairy Days Poster
Ice Cream Counting File Folder Game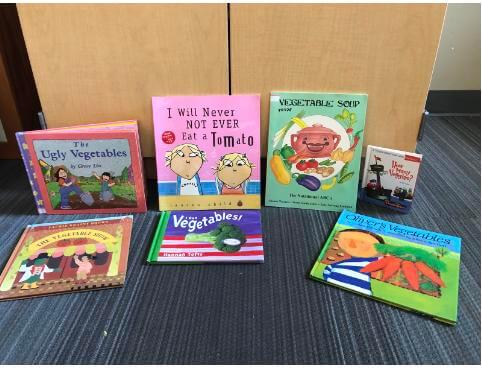 It's not always easy to get kids to eat their veggies. Explore different kinds of veggies with the books and possible activities in this tub. Maybe you'll end up doing a veggie taste test or make vegetable soup.
Books
How Many Vegetables
I Eat Vegetables
The Vegetable Show
Oliver's Vegetables
The Ugly Vegetables
Vegetable Soup
I Like Ring Book
June 29th 1999
I Will Never Eat a Tomato
Materials
Vegetable Poster
Food Matching Folder
Community Section
Puzzles
Matching Lids Game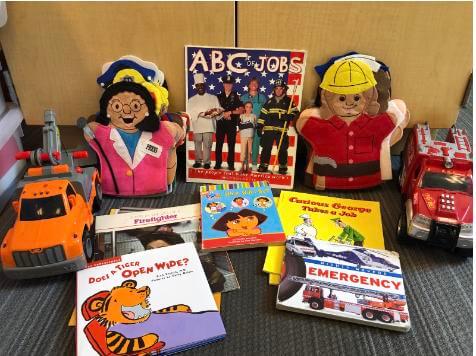 A community needs helpers of all kinds to make it work. Imagine if we took away sanitation helpers or doctors? This box includes books, puppets, and even some rescue vehicles to help kids explore the people in their community.
Books
A Day in the Life of a Firefighter
ABC of Jobs
Does a Tiger Open Wide?
Emergency
What Will I Be
Curious George Takes a Job
A Day in the Life of a Farmer
A Day in the Life of a Garbage Collector
A Day in the Life of a Veterinarian
All Through the Town
I Like Animals
Materials
Felt Hand Puppets
Bulletin Board Figures
Community Helper Match Cards
Elmo Poster
Fire Engine Alphabet Cards
Fire Truck
Tow Truck
Plastic Helicopter
Wooden Fire Truck
Families Section
Wooden Helicopter
Doctor Costume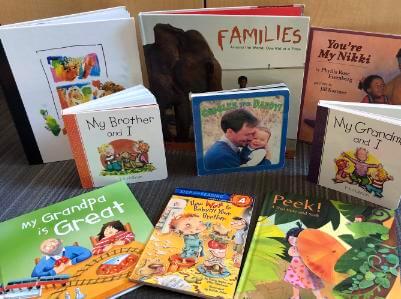 We all have families, but they don't all look the same. Help kids explore their own family and others with this box. It includes books and an activity binder to prompt conversations about the people who love us most of all.
Books
Boundless Grace
Corn Rows
Families Around the World
Fathers Mothers Sisters Brothers
Finding Nemo Best Dad in the Sea
Giggles with Daddy
How Not to Babysit Your Brother
Knock! Knock!
Meet Danitra Brown
My Brother and I
My Daddy Snores
My Grandma and I
My Grandpa Is Great
Peek
The Hello Goodbye Window
You're My Nikki
No David
The Quilt Story
I Miss You Stinky Face
Where's My Mummy
Mommy Is That You?
Daddy Will You Miss Me?
Mommy Mine
Family Section
Mommy's Bed
Counting Kisses
Explore families and family activities with this bag. Included are several books, dolls, and activity pages.
Books
At Home
Giggles with Daddy
Mommy Loves Me
Kisses for Mommy
Dady and Me
Little Brother
Brothers are for Making Mud Pies
Big Sister, Little Sister
Materials
Large photo/activity cards
Family Photo Cards
People (4 adults, 1, child)
Feelings Section
4 LIttle People
Activity Pages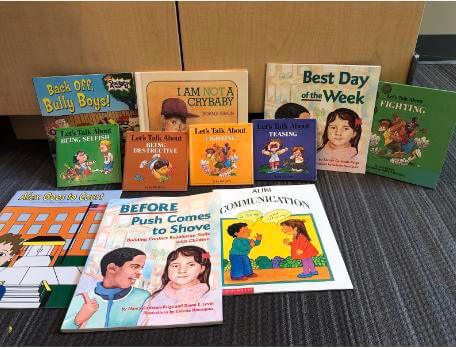 We know it's hard to be little! Sometimes our feelings come out in some not so great ways. This box includes various book titles that help kids explore some of those feelings.
Books
Alex Goes to Court
Back Off Bully Boys
Before Push Comes to Shove
Best Day of the Week
Communication
I Am Not a Crybaby
Let's Talk About Being Destructive
Let's Talk About Being Selfish
Let's Talk About Fighting
Let's Talk About Teasing
Love
Germs Section
When Sophie Gets Angry
Sometimes I Feel Like a Mouse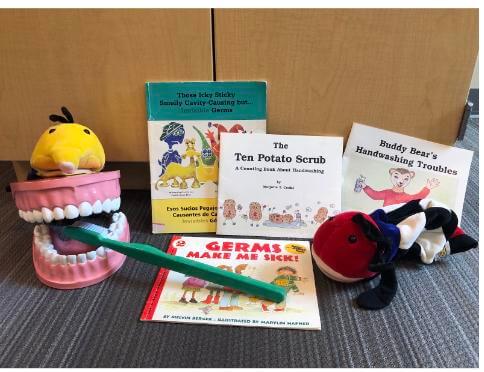 FIGHTING GERMS- WASHING HANDS AND BRUSHING TEETH
Germs are everywhere! Become a superhero by learning how to get rid of them! Practice brushing using the giant oversized toothbrush and teeth. Also included in this box are books and games you can play including a tooth fairy letter matching game and coins that can be used to play tooth fairy. Germs don't stand a chance!
Books
The ABC's of Clean Teacher's Guide
Barney Goes to the Dentist
Brushing Buddies
Buddy Bear's Handwashing Trouble
Food Safety Express
Germ Busters: The Handwashing Activity Book
Germs Make Me Sick
The Magic School Bus Inside Your Mouth
Me and Charlie
The Ten Potato Scrub
Those Icky Sticky Smelly Cavity Causing, but Invisible Germs
Materials
Handwashing Poster
Large Toothbrush
Large Teeth Model
Tooth Fairy Shape Cards
Tooth Brush Color Flip Book
Tooth Fairy Alphabet Matching Cards
Playdoh Toothpaste Letter and Number Mts
Teeth Playdoh Mats
Friendship Section
Tooth Fairy Calendar Numbers
Germ Puppets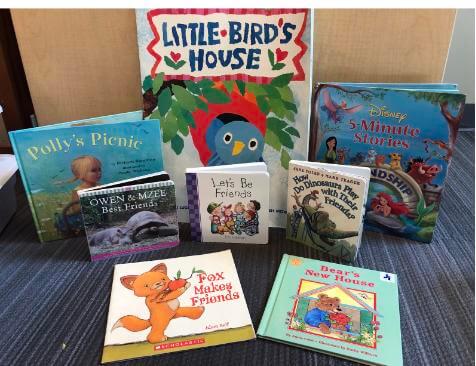 Making friends is hard. Sometimes keeping them is even harder. This tub includes books that investigate what it means to be a good friend. Also included is a binder with other activities and games that can be used to explore this topic.
Books
Bear's New House
Disney's Five Minute Stories
Forest Friends Help Each Other
Forest Friends Learn to Share
Fox Makes Friends
How Do Dinosaurs Play with Their Friends
Jessica
Let's Be Friends
Little Bird's House
Owen and Mzee Best Friends
Pinduli
Toot & Puddle
Celestine Drama Queen
Scaredy Squirrel Makes a Friend
Try a Little Kindness
Friends Section
The Crayon Box that Talks
What Does It Mean to Be Kind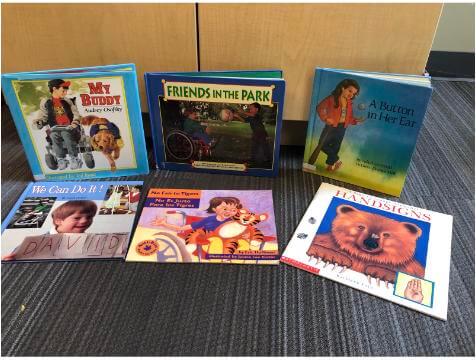 Sometimes people learn and play in a way that is different from us. This tub includes books that help kids explore how people with special needs may be different from us, but we also have a lot in common.
Books
A Button in Her Ear
Friends in the Park
Handsigns
My Buddy
No Fair to Tigers
Why Does That Man Have Such a Big NOse
Materials
Person with Crutches Puzzle
Person with Wheelchair Puzzle
Manners Section
Posters
More Alike Than Different Kit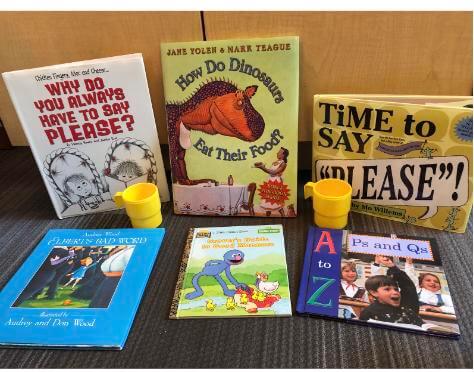 Having good manners is more than just being polite. They are a way of showing those around us that we care. This box includes books and activities that help little ones begin exploring manners. There are also place mats and dishes so you and your kids can practice their table manners.
Books
Pass the Cheese Please
Elbert's Bad Word
Manners
Why Do You Always Have to Say Please
Say Please
D.W.'s Guide to Perfect Manners
Thank You
It's a Spoon, Not a Shovel
Time to Say Please
Mealtime
Grover's Guide to Good Manners
A to Z Ps and Qs
My Eating Book
How Do Dinosaurs Eat Their Food
Barney Says Please and Thank YOu
Berenstain Bears Forget Their Manners
Materials
Place Mats
Play Dishes
Body Section
Manners Card Game
Time to Say Please Board Game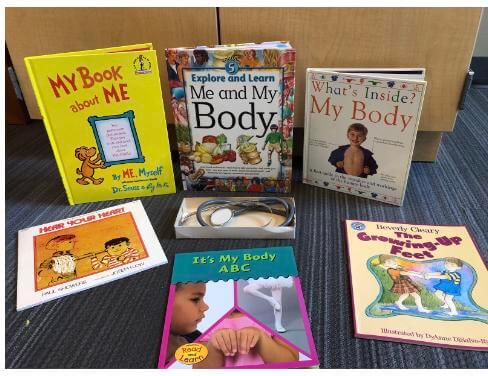 Our bodies are incredible and mysterious machines! Help kids explore how their bodies work with the books and activity suggestions in this box. It also includes a stethoscope!
Books
Growing Up Feet
You Can't Make a Move Without Your Muscles
ABC I Like Me
All About Me
Food & Me
Growing
Hear Your Heart
I Like Myself
I'm the Greatest Me There Could Ever Be
It's My Body
Loose Tooth
Me and My Body
My Book About Me
What's Inside My Body
Materials
Puzzles
Large Body Parts Laminated Puzzle
Senses Section
Hand Sponge
Stethoscope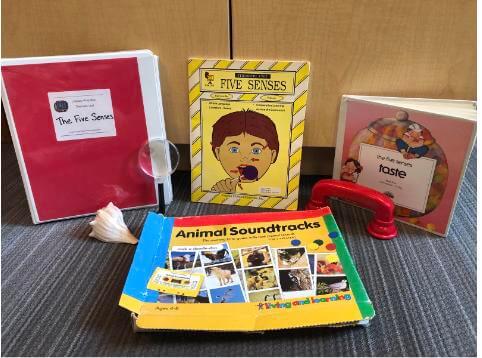 Our five senses help us learn about the world around us. This tub includes books and activity suggestions on how our senses help us.
Books
Knots on a Counting Rope
Tasting
The Five Senses Taste
Materials
Animals Soundtracks Game
Puzzles
Matching Texture Mats
Slim Goodbody's Musical Guide to What's Inside
Seashell
Baby Section
Mirror
Play Phones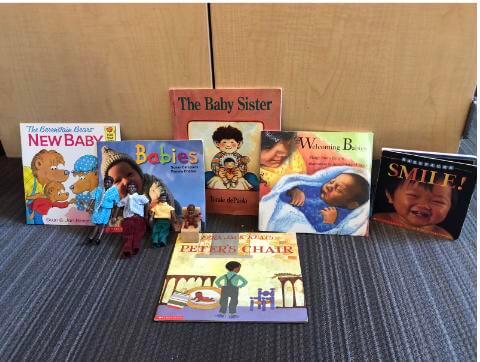 Adding a new member to the family can be exciting but confusing at the same time. This box includes books and suggested activities to help kids explore what having a new family member looks like.
Books
Baby Makes Five
Baby Talk
Julius The Baby of the World
New Baby
Peter's Chair
The Baby Sister
Welcoming Babies
Babies
Smile
People Section
Materials
Peter's Chair Retelling Kit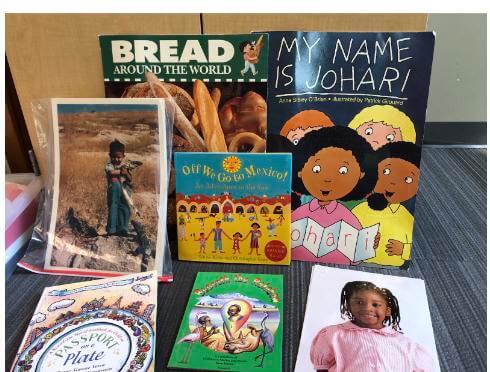 Grab your passport and take a trip around the world. This two box set includes books featuring different cultures, cooking projects, games, and so much more. Allow yourself a little time to go through these boxes. There is a lot to explore.
Books
A Birthday Basket for Tia
A Ride On Mother's Back
A Chair for My Mother
Beneath the Rainbow
Black Is Brown Is Tan
Bright Eyes, Brown Skin
Children Just Like Me
Child of the Sun
Fiesta
Grandmother's Garden
Hats Hats Hats
In Coal Country
Just Like Me
Loving
Mama Do You Love Me?
Mufaro's Beautiful Daughters
Multicultural Snacks
Peek!
People
The Boy Who Loved Dumplings
The First Strawberries
The Goat in the Rug
The Land of Many Colors
The Legend of the Indian Paintbrush
The One and Only Special Me
This Is the Way We Go to School
A Trip Around the World
Bread Around the World
My Name Is Johari
Off We Go to Mexico
On the Go
Passport on a Plate
Picture Atlas of the World
The Kids Multicultural Cookbook
Usborne Round the World Cookbook
Materials
People of the World Photo Posters
Hello from Around the World File Folders
Children of the World Puzzle
Let's Be Friends Poster
Kids Poster
Foods and Festivals Posters
Space Section
Many Faces Posters
Ring Around the Rosy Domino Game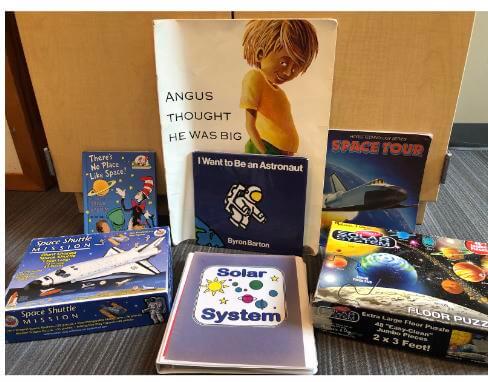 Shoot for the stars as you explore space. This box includes books, puzzles, and a binder of ideas for the Solar System.
Books
Gravity
Constellations
Exploring the Night Skies
I Want to Be an Astronaut
Space Tour
There's No Place Like Space
Materials
Solar System Puzzle
Space Shuttle Puzzle
Robot File Folder Puzzle
Bubbles Section
Alien/Planet Color File Folder Game
Spot In Space Poster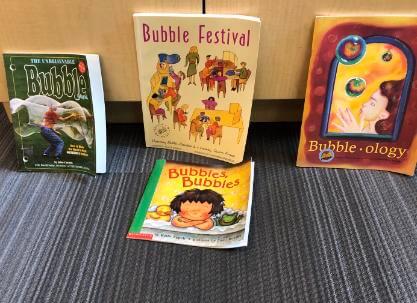 Get outside for some bubble fun! This tub includes books and bubble solution.
Books
Bubble Festival
Bubble-ology
Bubbles, Bubbles
The Unbelievable Bubble Book
Camping Section
Materials
Bottles of Bubbles (Check bubble solution upon return)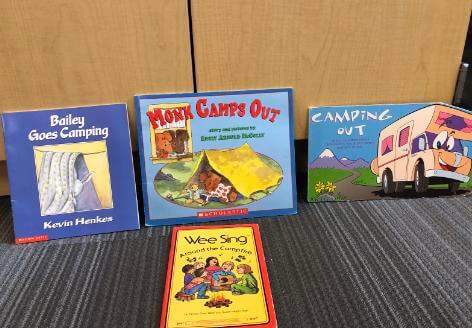 Build a tent and get ready for time around the campfire. This tub includes books, an activity binder, and campfire songs. I suddenly have a craving for smores.
Books
Bailey Goes Camping
Monk Camps Out
Cars Section
Camping Out
Around the Campfire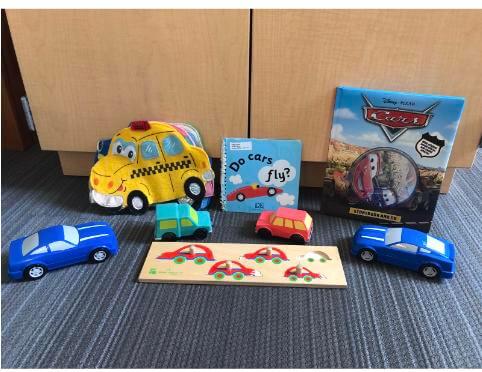 On your mark. Get set. GO!!! This tub includes several cars for your kids to race around the room or outside. Set up an obstacle course and see if the kids can make it through. Or let them design their own roads. Just remember to obey those traffic signs.
Materials
Car Play Mat
Car Felt Puppets
Car Laminates
Wooden Peg Puzzle
Castles Section
Toy Cars
Match the Cars File Folder Games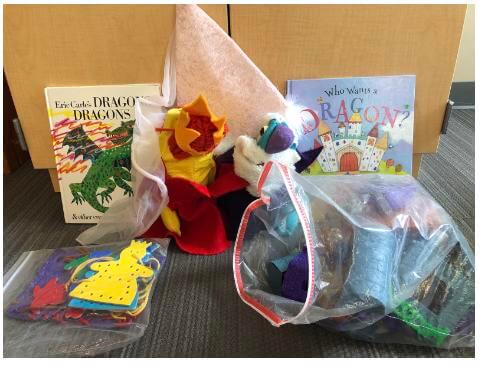 Your princes and princesses will have a great time exploring castles. The books and suggested activities may have them wishing for a pet dragon of their own. Also included are puppets, lacing cards, and a castle playset. (People for the playset are not included, but can be easily made out of paper or clothespins.)
Books
A Medieval Feast
Blueberries for the Queen
Dragons, Dragons and Other Creatures That Never Were
Herb, the Vegetarian Dragons
Knights and Castles
Pish, Posh and Hieronymus Bosch
The Knight and the Dragon
The Paper Bag Princess
Who Wants a Dragon
Materials
Castle Tent
Puppets
Bendable Herb the Vegetarian Dragon
Imaginenext Wizard's Castle Prop
Circus Section
Princess Hat
The Princess and the Pea Flannel Board Pieces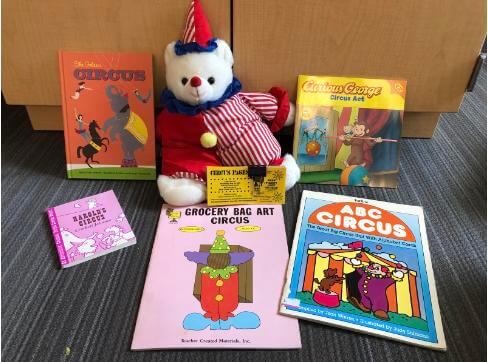 Send in the clowns. This tub includes books and a binder of possible activities. You may end up creating your own three ring circus.
Books
ABC Circus
Curious George Circus Act
Grocery Bag Art Circus
Harold's Circus
The Golden Circus
Materials
Circus Tickets
Elephant Peanut Counting
Elephant Sequence Cards
Construction Section
Elephant Upper and Lowercase Matching
Circus Bear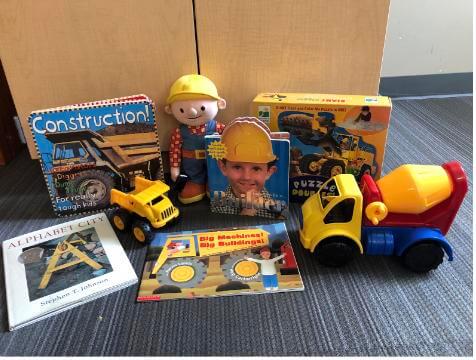 Kids are naturally drawn to construction trucks and dirt. This box includes puzzles, books, a binder of possible activities, and a tool kit. It won't be long until your kids are "fixing" all kinds of things around them.
Books
AlphaBet Under Construction
Big Machines, Big Building
Alphabet City
Bob the Builder Building Buddies
Bod the Builder Bob's Favorite Fix It Tales
Construction
Construction! Emergency
I Want to be a Builder
Look Inside Cross-Sections Bulldozers
Mike Mulligan and His Steam Shovel
Tonka Building the New Road
Tonka Working Hard
Dump Trucks
Materials
Giant Digger Puzzle
Construction Puzzle
Wooden Construction Vehicles Puzzle
Bob the Builder Doll
How Many Windows Counting Cards
Dump Truck Play Set
Plastic Tool Set
Tools Matching Cards
Duplo Section
Small Dump Truck
Large Cement Mixer Truck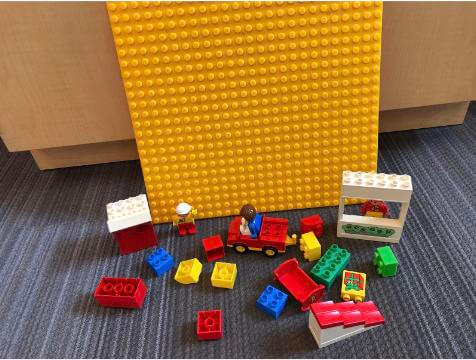 Lacing Section
Those little hands will have a great time using their imaginations to create with these blocks.
Have fun working on fine motor skills with these cards. There are lots of shapes to choose from.
Materials
Movin Section
Lacing Shape Cards
Strings for Lacing
Time to get up and make some noise! Maracas, a xylophone, and a drum are included. Scarves and bubbles are included to inspire some fun movement to the music.
Books
Barnyard Dance
Let's Count Baby
Hugs Hugs Hugs
Materials
Bandanas (12)
2 Shakers
Xylophone with Mallet
Potato Section
Wave Drum
Bubbles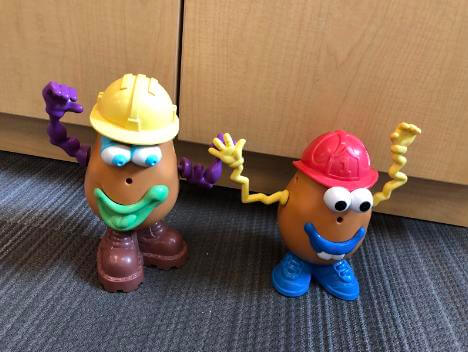 Talk about a blast from the past! Mr. Potato Head are back to help your kids learn about parts of the body while having fun.
Materials
3 Potato Head Sets
Music Section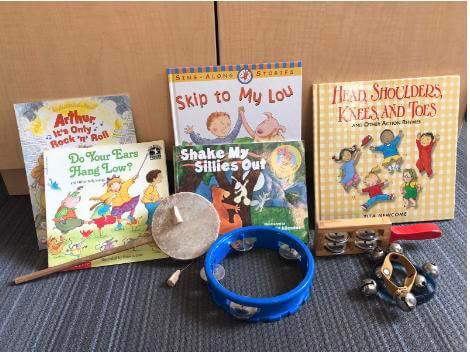 Strike up the band! Treat your neighbors to the ultimate concert with this box. This box includes many instruments and books featuring classic kids songs and rhymes. There is also a binder of possible activities.
Books
Arthur, It's Only Rock and Roll
Do Your Ears Hang Low
Down By the Station
Love Me Tender
Froggy Plays in the Band
Head Shoulders Knees and Toes
Piggy Back Songs to Sign
Hey Diddle Diddle
It's Raining, It's Pouring
Momma Don't Allow
More Than Singing
Olivia Forms a Band
Over the Meadow
Root-a-Toot-Toot
Row Row Row Your Boat
Shake My Sillies Out
Shanna's Hip Hop Hooray
Skip to My Lou
The Remarkable Farkle McBride
The Wheels on the Bus
Twinkle, Twinkle Little Star
Wee Sing Silly Songs
Wee Sing ABC Book and CD
The Singing Sack
Materials
Wheels on the Bus Story Props
Instrument Poster
Musical Footprints Play Pad
Castanets
Chino Tone Blocks
Finger Cymbals
Handheld Drum
Maracas
Rainstick
Rhythm/Drum Sticks
Seed Rattler
Wrist Bells
Office Section
Tambourine
Xylophone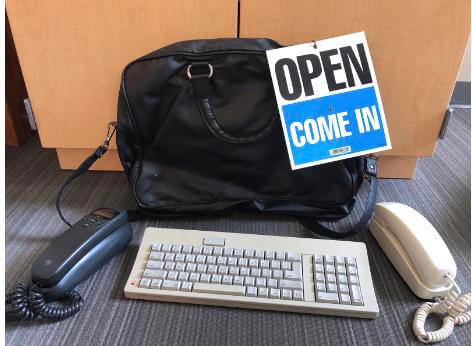 It's time to get to work! This tub includes phones, a keyboard, a binder of possible activities and more.
Playdoh Section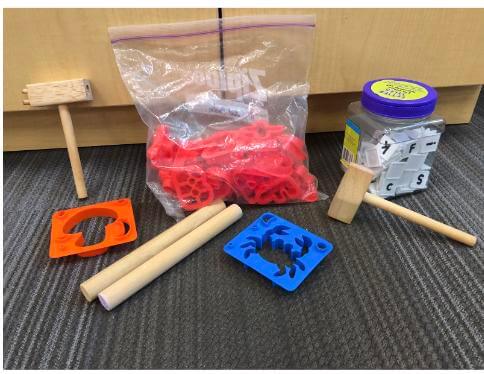 Few things bring as much joy as playdoh. This tub includes dough tools, cookie cutters and playdoh.
Books
Playdough
Materials
Playdoh (***Check playdoh upon return)
Sticks for Rolling Pins
Alphabet Cookie Cutters
Wooden Tools
Assorted Plastic Molds and Cutters
Play-doh Color Flip Book
Play-doh Letter Tile Cards
Letter Tiles
Play-doh Bingo
Play-doh Sequencing Cards
Play-doh Snake Letters
Play-doh Memory Cards